Lighting Your Business For Security
The lighting in your business plays a role in security. If you own a business, making sure your building is secure should be one of your top priorities. Unfortunately, many businesses don't take the necessary precautions to ensure their property is well-lit and secure. As commercial electrical contractors, we know proper lighting can help keep your building safe from unwanted attention. Here are some tips to help you light your business for security. By following these simple tips, you can deter crime and make your business safer for everyone.
Assess your current lighting and find vulnerabilities.
When it comes to assessing your business' lighting situation, it is important to call on an experienced commercial electrical contractor for proper commercial electrical installation. They can help you identify any vulnerabilities and ensure that any safety regulations are being met. In addition, they will be able to recommend solutions such as efficiency solutions or aesthetic improvements that could reduce costs or give customers a better experience. Working with an experienced commercial electrician should be the first step in finding out how you can improve your business' lighting system inside and out.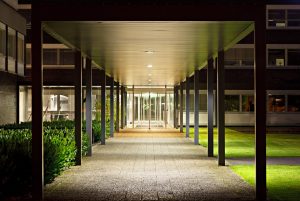 Look at different ways to improve the lighting.
Knowing where your business's weak points lie when it comes to lighting or lack thereof can be the first step in making improvements that make a world of difference! When it comes to lighting, think about what kinds of solutions would work best in illuminating any dark spots or areas that need additional brightness. Not only can these new solutions help when you're away, keeping those dark spots lit up can also be a benefit during the time your employees are there. Thinking outside the box about different solutions will ensure that proper lighting is implemented in a cost-effective manner, improving the atmosphere of the surrounding area.
Install additional light fixtures in strategic locations.
Calling on a licensed commercial electrical contractor to install additional light fixtures in strategic locations can significantly improve visibility and safety. Not only will this help light up dark corners and areas of the room, but it can also provide a welcome security measure to reduce the likelihood of potential accidents. With a little planning and consideration for how different types of lights are placed around the space, you can achieve remarkable results that offer both light and added security on a budget.
Investing in motion-activated lights.
Motion-activated lights are one of the best investments for increasing the security of your business. Installing these types of lights around the perimeter or entry points can often be an effective deterrent for potential burglars and intruders who desire anonymity in their activities. The alerts that motion-activated lights emit are often enough to scare off such people so that you don't have to worry about your merchandise or property being stolen or damaged. Furthermore, by using a network of sensors you could also position them in sensitive areas indoors, allowing you to feel confident that all areas of your business remain secure. Investing in motion-activated lights is definitely a smart move to ensure the safety and security of your business.

When it comes to lighting your business for security, we are here to help at E. Stanek Electric. Our experienced contractors have helped numerous businesses with commercial electrical installation in La Crosse County, Vernon County and beyond, and we're ready to take on your project whether it's a new build or an improvement on your current building. Questions? Feel free to connect with us or call us at 1-608-782-0433.