Creativity and Cost Savings in Electrical Contracting
Who knew that creativity and cost savings in electrical contracting go hand in hand?  
You may think an electrician's primary objective is to run wires from point A to point B so the light can turn on. That's a part of it. But really there's a lot more that goes into what we do as commercial electrical contractors. We like to think of ourselves as more creative problem solvers.  
Say you have a project with a unique set of circumstances. We look at it from all angles to come up with the best solution that makes the most sense. While a cookie-cutter approach may be an easy path to project completion, it may not always be the best.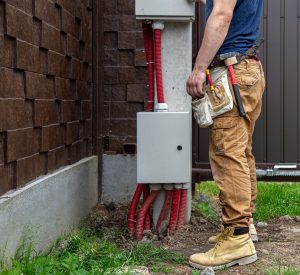 Your project is unique. And depending on the industry you're in, certain code requirements will need to be met – say healthcare vs a retail building for example. Each comes with its own set of challenges and its own set of solutions on a job-by-job basis.  
By approaching each job with a specific goal in mind, we then put together a plan of action that includes cost-saving creativity for your commercial electrical system. Working to accomplish a defined goal with creative approaches can not only help the client, but it can also make the job of general contractors easier too.  
Coming up with creative ways to keep things neat and presentable is always a must. It helps ensure easy management and maintenance of your system in the future. By getting it right the first time, there's less risk of running into high-cost issues down the road when it's time for an upgrade or facility expansion.   
Another way a commercial electrical contractor's creativity saves you money is in the way they handle issues to keep you on time and on a budget in an ongoing project. Challenges can often pop up mid-project due to unexpected external events or engineering errors. Thanks to our professional experience, we're ready to handle issues on the fly.   
For projects involving new builds or renovations, there are a lot of moving parts between contractors, clients, and equipment. Take an industrial project for example. If machinery placement changes mid-project, chances are it will impact the initial electrical drawing. When such an event occurs, cost-saving creativity comes into play to reconfigure the project to stay on time and on budget.  
At E. Stanek Electric, we're confident our creativity can lead to cost and time savings while still focusing on safety and proper planning and installation. If experience has taught us anything, it's to be ready for the unexpected and then find a creative solution to make it happen.  

We look forward to coming up with creative solutions for your next project, no matter if it's big or small. At E. Stanek Electric, we've been finding electrical solutions for area businesses for generations in the La Crosse, Wisconsin area. Let our trained and certified commercial electrical contractors help your business. Questions? Feel free to connect with us or call us at 1-608-782-0433.