Electrical Safety on the Job Site
In any trade, safety on the job site is priority number one – especially when working around electricity. At E. Stanek Electric, our commercial electrical contractors are always on the lookout for potential hazards. By establishing and following through with safety protocols, everyone on the job site benefits.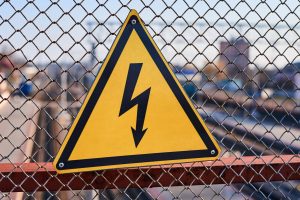 It doesn't take an electrician to know the dangers of working with electricity. Electric shock and electrocution are just two of the potential dangers. Unfortunately, such hazards can go unnoticed until it's too late. That's why it's essential for any commercial electrical contractor to be certain that their workers have been trained and educated on potential hazards. Something we take very seriously with ongoing training.
The first step in ensuring safety on the job site is to create a clear set of safety protocols and procedures that employees must follow when working with electricity. This includes everything from wearing appropriate clothing and using insulated tools to testing equipment before use and following lockout/Tagout protocols when disconnecting power sources. It's also important to utilize proper safety equipment such as protective glasses, face shields, hard hats, rubber gloves, and insulated tools.
Aside from avoiding potentially catastrophic accidents or injuries, there are numerous benefits associated with implementing effective job site safety practices. One of which helps ensure compliance with OSHA regulations. Additionally, by investing in quality safety equipment, we're able to keep costs down by saving on repairs and replacement which minimizes downtime. In the end, everyone benefits, even our customers.
Ensuring job site safety is essential for our commercial electrical contractors at E. Stanek Electric. Our investment in job site safety is ongoing. Creating a safe environment on the job site will always be our top priority while providing you with the best electrical contractor services in the Coulee Region.

Let us come up with creative electrical solutions for your next project, no matter if it's big or small, a new construction or an upgrade to your current building. At E. Stanek Electric, we've been finding electrical solutions for area businesses for generations in the La Crosse, Wisconsin area. Let our trained and certified commercial electrical contractors help your business. Questions? Feel free to connect with us or call us at 1-608-782-0433.