Upgrade Your Lighting, Eliminate Toxic Risk Exposure
Keeping your workplace safe by eliminating toxic risk exposure seems like a no-brainer. But you may not even know what that toxic risk may be.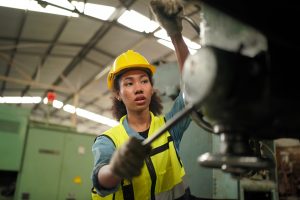 High-Pressure Sodium Bulbs
Here's a hint. It's in a lot of industrial facilities, it helps you see and it's hanging right over your head. It's your lights. If you have high-pressure sodium (HPS) bulbs, they contain mercury, which is toxic. Once one of them breaks, you could have a serious issue on your hands. If that wasn't enough of a concern, HPS bulbs also emit high levels of harmful UV radiation. 
At E. Stanek Electric, we know you want to protect your employees, so we thought this bit of info on an often overlooked hazard could be beneficial. 
 HPS bulbs are fairly common in U.S. industrial facilities, which leaves an untold amount of workers at risk of exposure to mercury and UV radiation. If your business is one of the many industrial facilities with HPS lamps, you may want to consider an update to your lighting system. 
 Benefits of LED Lighting
One update you should take into consideration is making the switch to LED industrial lighting. There are many benefits to LED lighting in the workplace. Here are just a few reasons to consider LED industrial lighting as a replacement for your old HPS lamps.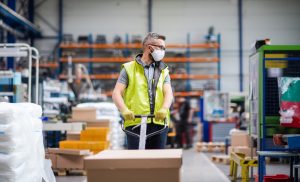 -LED fixtures are more durable. HPS bulbs can break easily with minimal contact and can even explode under high heat. When an HPS bulb breaks, mercury is released into the air and can be a possible hazard to nearby workers. With LED lighting, no mercury is involved, and you get a more durable fixture. 
 -LED fixtures need less maintenance. Since LED bulbs are more durable, that means you spend less time changing out HPS bulbs when they break. You'll not only reduce maintenance time, but you'll also reduce the possibility of being exposed to toxins just by handling HPS bulbs. 
 -LED fixtures mean less UV exposure. You'll find that HPS bulbs are typically shielded to reduce UV exposure, but a lot of times these shields can easily break or become cracked over time. Next thing you know, you and your workers are exposed to UV radiation. With LEDs, they emit an extremely low level of UV radiation which can significantly protect your workers from being over-exposed to high levels. 
 In addition to eliminating toxic risk exposure, other benefits of industrial LED lighting include improved visibility, reduced energy consumption, and lower maintenance costs. All things to consider when it comes time to upgrade and update your current industrial lighting system, or we can explore other options. 
 At E. Stanek Electric, we're always looking for ways to help keep our workers safe. We know it's also a top priority in every business we work with. Since each facility is different, you have your own unique set of problems when it comes to updating the electrical components of your business. That's why we approach each project individually to find the correct solution with safety in mind. 

If you have questions about the safety of your industrial facility in regards to electrical work or if you're in need of service, feel free to connect with us or call us at 1-608-782-0433. Our trained and certified technicians have been helping businesses just like yours in the La Crosse, Wisconsin area for generations.