Preventing Winter Electrical Problems
The air gets chilly, you pile on layers and the thermostat gets more clicks than a picture of kittens on Facebook. Here in the mid-west, everyone has their own method of dealing with freezing cold temps. But your furnace isn't the only thing that gets a workout. Energy use tends to increase in the winter at home and at your business. When use is up, electrical problems can happen.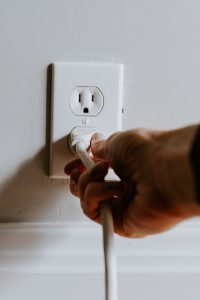 Electrical Cords
A fire in the winter months is all too common. Using extension cords could lead to a possible risk of such an unfortunate event. When you plug an appliance into an extension cord, the circuit breaker is unable to tell if that appliance is overheating. As the overheating appliance continues to run, the cord could melt and eventually a fire could start.
Electric Space Heaters
Everyone knows at least one person who always seems to have a space heater within reach. It's running most of the day to combat the cool draft that drifts through their workspace during those cold Wisconsin winters. They've had it so long, their space heater may even have a name. Over time, appliances like space heaters can wear down and get damaged. They should be checked over for wear and tear, and replaced every five years or so.
If a space heater is being used, try not to plug it into an extension cord for reasons mentioned above. It's a good idea to turn it off when you're not using it and unplug it from the outlet. If you're needing to replace that old space heater, you may want to find one that features an automatic shut off.
What To Look For
With all the extra juice that gets drawn during the cold winter months, keep an eye out for signs you may need some electrical work in your business. Flickering lights or tripped breakers are signs your system is working too hard. It's best to have an experienced electrical contractor come to your place of business to ensure you get through winter safely.

Contact E. Stanek Electric
For upgrades and complete overhauls of the electrical work in your business or even new installs of gigantic proportions, we're ready to help. Contact E. Stanek Electric or give us a call at 608-782-0443.